I want to book a meeting room fast, but where and how?
The meeting room is a convenient and professional space where brainstorming sessions happen. Great ideas are churned and the perfect solutions are generated. These days a variety of options are available for you to book a ready-to-use meeting room that provides flexibility and state-of-the-art infrastructure at affordable prices. The perfect meeting room service should boast of services like a reception team to offer a warm welcome to your guests, free Wi-Fi for uninterrupted work, presentation tools for the smooth flow of the meeting, administration services to offer support functions, and refreshment services for a wholesome experience. This helps in creating an engaging and productive workspace for people.
You can find and book suitable meeting rooms through online platforms that list available spaces along with their specifications and the range of services that they offer. They track and monitor the meeting rooms available. This will save you time and energy as you can list your preferences and choose from an array of options available while sitting at your computer screen. These platforms aim to provide you tailor-made solutions as per your business needs with the best value for money by acting as a mediator between the client and the partner venues. All you need to do is search, compare and book online for a hassle-free booking experience.
Once you have an idea of all the major requirements the rest is a very simple process. All you need to do is register with any of the service providers and avail of their services. One such great platform in the Middle East is fluidmeet which can assist you in searching for your desired meeting room.
You can select the perfect meeting room quickly by keeping in mind these key factors:
The Perfect Location
Choosing the perfect location is an important element because the centrality of the location can ease the logistical challenges that attendees can face. Obviously, an appropriate location is one that is easily accessible for people and has multiple modes of transportation to reach. You need to consider the purpose of the meeting while selecting the meeting room like the seating capacity of the chosen venue so that it easily accommodates the required number of delegates.
Time Duration
When selecting a meeting room, you should know the agenda of your meeting and the duration of your meeting. For instance, these days, different facilities provide you with multiple time options as per your requirement. You can choose to block the venue on an hourly, half-daily, or daily basis depending on your need. Thus, you need to choose wisely so as to optimize your money spent.
Meeting Room Amenities
Based on the agenda of your meeting, you can choose the meeting room which is well equipped with the necessary equipment and gadgets. For that reason, basic necessities like Wi-Fi, projector, whiteboard, video conferencing, etc. should be present for the meeting. Sometimes you need a podium for a speaker or a sound system to make sure your voice is heard all across the event space.
Aesthetics of The Meeting Room You Want To Book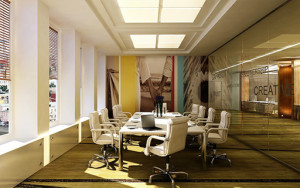 The selected meeting room should have proper aesthetics as per the meeting requirements. Proper lighting, layout, seating arrangements, and décor should be in sync with your preference. As these aspects can be viewed with the pictures provided on fluidmeet, and helps you choose the best facility quickly. Remember that your event should match the space. If you want a classic look and feel, choose that. If you want something more flashy, the pink and red walls of the meeting room might help for your product launch. The choice is yours.
Food Service
You can choose from a variety of food & beverage services offered along with the meeting room facilities. A short meeting might require a coffee/tea break. However, a longer meeting might require a full-service buffet including free-flowing coffee and tea, especially after lunch. This will help in providing an overall package for the meeting. And it will be professionally managed by the venue partner.
We hope the above was helpful. Next time you're choosing meeting rooms in Dubai for your event or meeting, reach out to fluidmeet. I'm sure we can help. Actually, we guarantee we can help 😊