3 Tips to Consider When Moving Back to the Office After the Pandemic
Millions of business owners and large organizations have been working remotely for the past year. Some companies, including Twitter, have told employees they can keep working remotely forever. On the other side, there's also an effort to prove that office and co-working spaces can safely reopen. Due to the pandemic, organizational leaders, with the know how to manage productivity in an office environment, have struggled to translate that effectively with remote work. Moreover, they are now keen to relaunch and return back to the office. Although some companies have thrived in a virtual working space environment, others have struggled with the absence of the human touch.
How are business owners and entrepreneurs transitioning their return to the office after working from home for so long? There is a new level of reality to adapt to in the virtual world. How can we transition back to the office with our productivity still intact after months of honing it in remotely? Employers are requesting from their staff to go back to the office and it's crucial for employees to understand how to re-integrate smoothly back into the work environment.
Everyone has been working from home for the past year including freelancers and business owners who have dealt with lots of challenges, such as mental health. After the pandemic, it's time to go back to the workplace and develop physical relations in a distraction-free office space setting. Here are some tips that best serve your return to the office space setting:
Honing in on your New Skills
Whether it is going back to your office or co-working space, making a list of what worked for you at home is essential. Following your return, you need to hone in on your project management and communication skills to boost your productivity.
Self- discipline
When business owners work from home, they are more relaxed about the rules. You've probably developed new habits when you were working from home, and there is no need to give them up. Just reorganise your day to make it work for you. You have the self-discipline to wake up early and carry on with the habits you have developed.
Maintain Effective Communication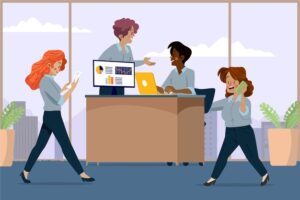 While working from home, you have probably scheduled those zoom calls and meetings. However, with your return to the office following the pandemic, keep in mind the scheduling of those connections. Deploying power hours in a distraction free work environment can aid with that report or project you need to submit. Those zoom meetings could be enough for you to communicate in your work from home days. However, now comes along the importance of body language when it comes to physical communication in the workplace. Having that social interaction is also a great advantage for your return to the work environment.
The global number of co-working spaces in the past five years has tripled, and the population of their members grew fivefold. Co-working spaces have been bringing superior benefits for office space users, such as value for money, reliable support services, and a networking opportunity. "We have seen the demand recently at our current operation at UNBOX for our solutions and services. With 'working from home' being on the rise, we anticipate that the demand will increase as more companies and small business owners are seeking flexibility. Hybrid workspaces are the new norm for large organizations and entrepreneurs, and co-working space complements this need', said Riad Madani Daftardar, Director of Unbox Inc.
As we further acquire herd immunity with this pandemic, more businesses are reopening and bringing employees back to the office. More people will be heading back to their usual work space, and remote work is bound to change. We will go back to brainstorming sessions and team-building exercises, with a descent in independent work from home. Collaborative meeting spaces will be more attractive and co-working spaces will be the best option for business owners. Remote organizations will still gather occasionally to co-work, and the co-working option is a natural fit for remote teams and the hybrid model.
Blog Prepared by fluidmeet Staff Writer
Author: Maha Ahmad
About fluidmeet:
Established in 2015, fluidmeet is a leading online market place and an emerging booking and venue management platform. Fluidmeet delivers a diverse variety of work and event spaces in a cost-effective and time efficient manner.