Top 10 Serviced Offices in Dubai Business Centers
Dubai continues to be a major hub for some of the best business opportunities in the world. While it is popular for its world-class infrastructure and excellent quality of living, it's also a top destination for business owners because of the benefits its free zones and mainland provide. For many companies, Dubai is the next step toward establishing a global presence, and for that purpose, we've compiled a list of the top 10 serviced offices in Dubai.
Due to its worldwide popularity, Dubai's market demand for serviced offices in premium business centers has skyrocketed. It has become a number-one pick for companies looking to relocate their business, establish their presence in the region, or open a new regional branch. If that sounds like something your business is planning to do and you need a serviced office, you're in the right place.
We've narrowed down the top 10 serviced offices in Dubai business centers, but before we get to that, here's how to pick the most suitable one.
Things to Look for in a Serviced Office in Dubai
The sudden increase in supply to meet the market demand has led to business centers that are still relatively new to the industry. That's why evaluating the following factors is important to make an informed decision
Location
Remember: the employees and clientele you attract are only as good as the location you pick. Employees want a comfortable work environment that's near bus stops and metro stations. Similarly, easy access to parking keeps both employees and clients satisfied.
Let's not forget that your location can help maintain a better work-life balance. Bustling business districts with various amenities close by offer employees plenty of opportunities for recreational activities.
Space
Checking the capacity of a serviced office should be the first thing you consider when picking a serviced office. If you're looking to expand the company, you don't want to run into space issues after setting up everything.
Cost
Ideally, you should have a set budget before looking at business centers. Keeping a range will help you filter your choices while making sure you're prepared for additional expenses.
Reputation
Once you've found a business center that meets all your needs, you may think you're ready to move in right away. However, some business owners forget to check the reputation and credibility of the business center prior to booking a space. This can have a significant impact on your business's reputation and growth. Think about it: you can attract more clients when you set up an office in a well-renowned business center.
How Can fluidmeet Help You Make an Informed Decision?
With the influx of businesses and startups in Dubai, business owners are struggling to find serviced offices. It's more likely when you're new to the country and are trying to establish a brand. Finding the best business center for serviced offices is not easy, and you will need to enlist the help of a developer to make a better decision.
Fluidmeet can help you find a serviced office to establish your business in Dubai. With our services, you can find a business center according to your business's requirements.
On the Fluidmeet website, you can search for serviced offices by mentioning a location or your preferred office type. Then, it will show you various options based on your budget. Our online platform aims to provide our clients with the most suitable offices for their company based on their requirements.
You can use Fluidmeet to perform the screening process for you. Screening is essential for you to meet high market standards before approving a business center. The live feedback from our previous tenants can also help you make a better decision and help us compile a list of the top 10 serviced offices in Dubai
You can make a commission-free booking and request a quote. We promise a much lower cost than you get from a business center directly.
Top 10 Serviced Offices in Dubai Business Centers To Help Your Business Grow
Let's look at the top ten serviced offices in Dubai business centers to improve your business' growth:
Downtown Dubai
Downtown Dubai is a mixed-use complex covering two of the most prestigious areas of Dubai. It is situated on either side of the Financial Center Road and Sheikh Zayed Road. Downtown Dubai is a leading global engine for innovation and luxury properties.
Internal Office Space
Internal Office Space in Downtown Dubai is a great serviced office for its flexible and modern style. It offers short and long-term bookings. With fluidmeet, you can enjoy excellent business services at the best rate. This serviced office is excellent for startups, as well as small and established businesses in Dubai. Downtown Dubai provides well-furnished office spaces with air conditioning, WiFi, and meeting rooms.
Business Bay
Business Bay is among the trendiest business hubs in Dubai, which explains why it's home to luxurious residencies and elite commercial enterprises. While some of it is still under construction, Business Bay is on its way to becoming a hotspot in the city's extensive business landscape. It's one of the city's busiest locations for buying properties, with values reaching record highs in the last two years.
External Standard Office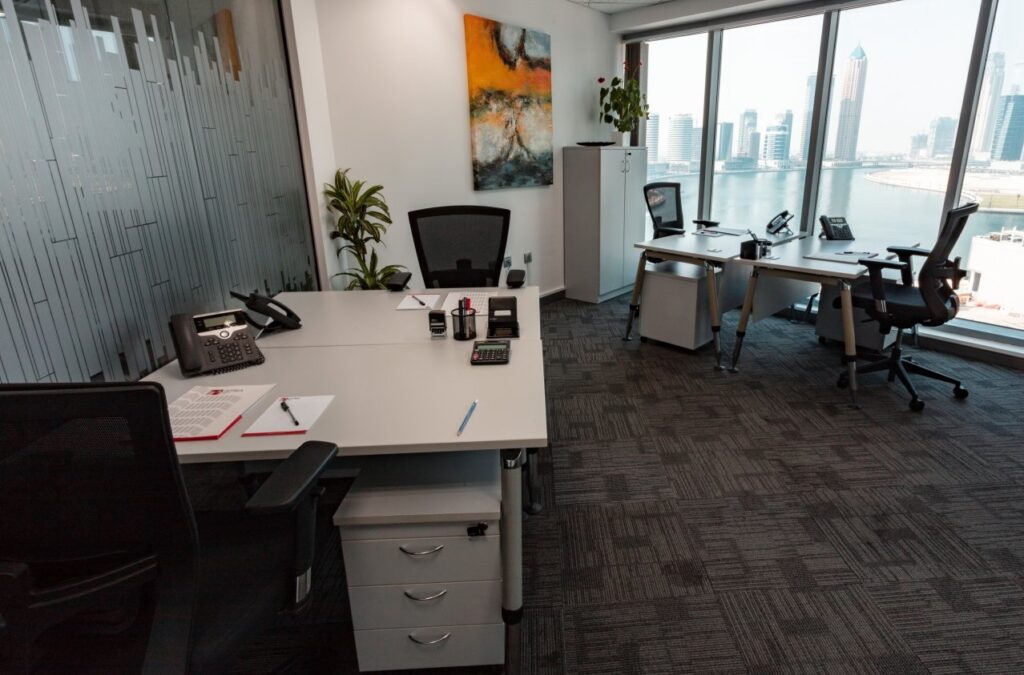 External Standard Office offers excellent serviced offices in the Business Bay business center. The state-of-the-art office space can leave a lasting impression on your clients. You can enjoy free parking, impressive reception, and high-speed internet. However, they do not offer short-term bookings.
Executive Office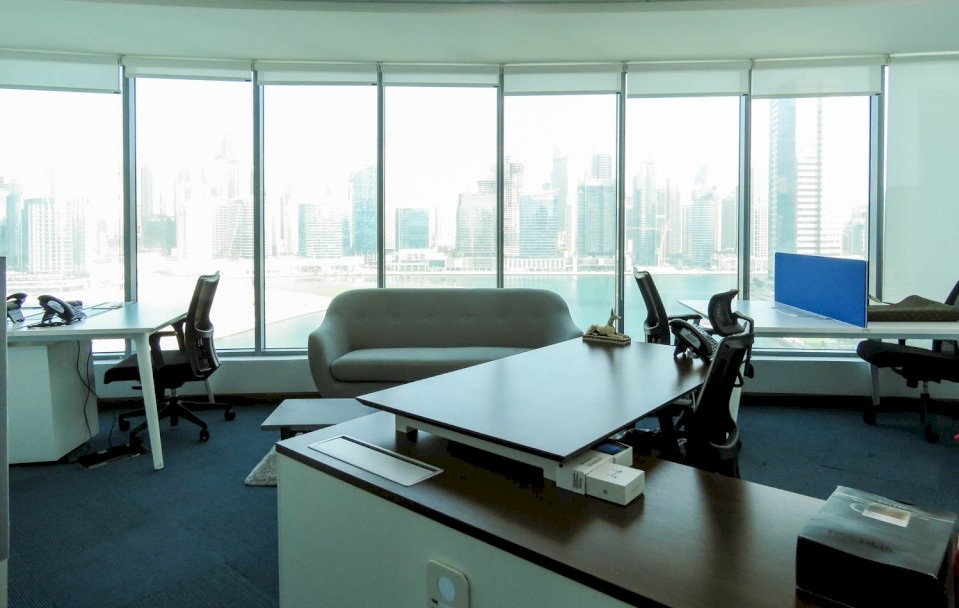 If you're searching for an executive-serviced office in Business Bay, here's a fantastic option. Through fluidmeet, you can book a comfortable and well-equipped executive office at a very affordable rental rate. It is excellent if you're looking for advanced facilities and impressive services like a receptionist, high-speed internet, and ergonomic furniture and fixtures.
Jumeirah Lake Towers (JLT)
JLT, or Jumeirah Lake Towers, is a residential and commercial district in Dubai. Currently, it has eighty towers under construction along the JLT Lake, Lake Almas West, and Lake Almas East. JLT is one of the top business districts for the city's real estate, food and beverage, and wealth management industries. Besides being among the top business centers, it's also known for being home to countless cafés, restaurants, and hotels that cater to the multicultural community.
Internal Standard Office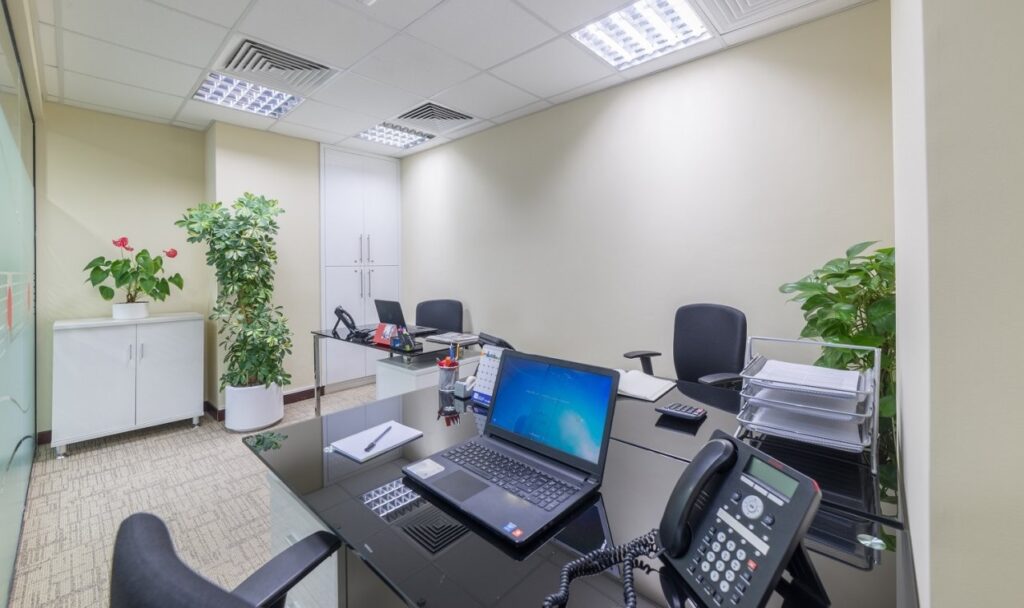 Internal Standard Office is another excellent option for business owners looking for an impressive office space. Beautifully furnished, serviced offices by Internal Standard Office are great if you're looking to establish a dynamic work environment where employees feel involved, and clients feel welcomed.
Dubai Marina
The Dubai Marina community is the tallest block in the world, with over two hundred residential towers. It is famous for its luxurious lifestyle and magnificent views.
Serviced Office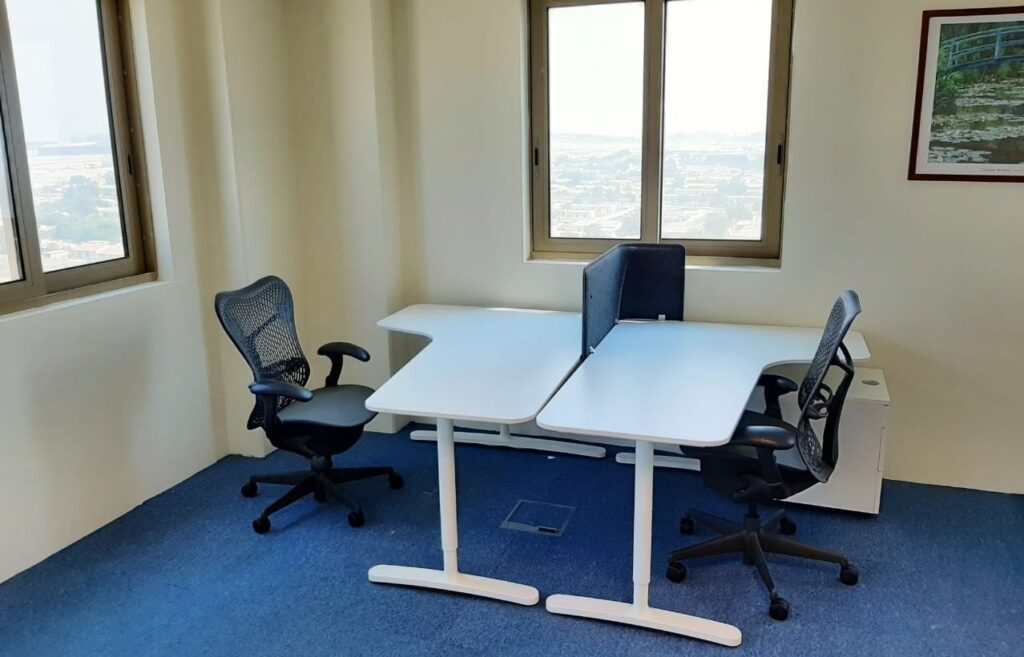 Located near Ibn Battuta Mall, this serviced office in Dubai Marina offers a professional space to establish your business. You can book an open space to set up your own office or book furnished executive offices. Some amenities include free parking, and utilities, including DEWA, as well as WiFi, call answering services, and a telephone line.
Dubai Media City
DMC or Dubai Media City is 25 km south of Downtown Dubai. You will find the business hub on Sheikh Zayed Road that connects Abu Dhabi and Dubai. Established back in 2000, DMC is excellent for startups, SMEs, and freelancers. And with an impressive amphitheater, it hosts numerous events that attract fans and enthusiasts with a wide range of interests. Buzzing with energy, it's the best place for an up-and-coming startup.
Superior Palm View Office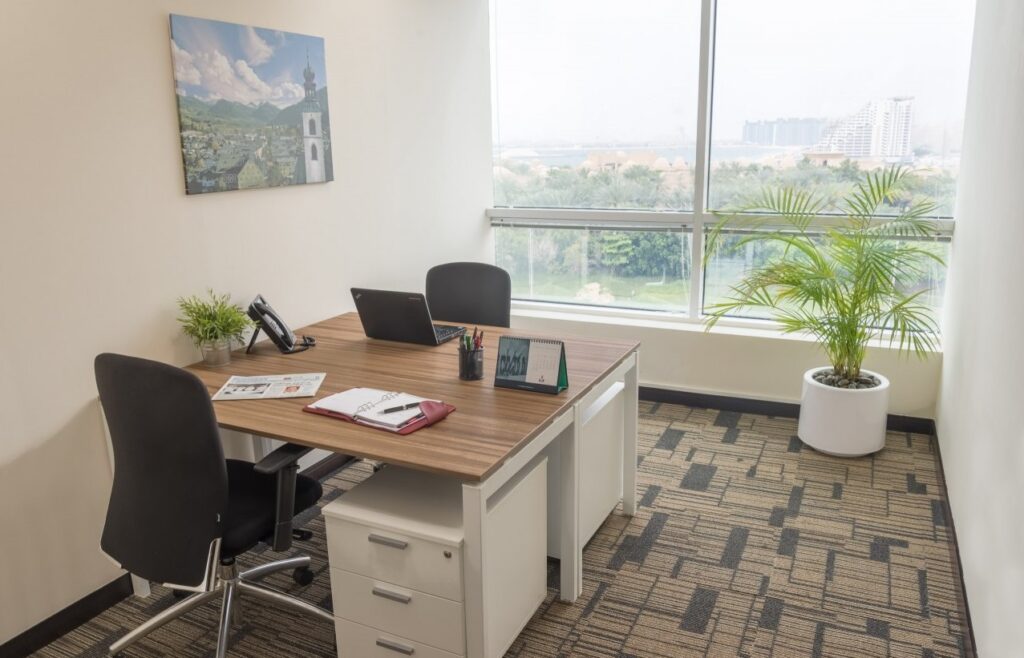 Superior Palm View Office is available for short and long-term bookings. Besides WiFi, furniture, and utilities, other amenities include a pantry, printer, and call answering services. This serviced office is overlooking the amazing Palm Jumeirah and is an ideal option if you're looking for tailor-made office solutions.
Sheikh Zayed Road
One of Dubai's main highways, Sheikh Zayed Road, joins the seven emirates and is considered the heart-line of Dubai. Given its location, it's where you'll find the who's who of the automobile, hospitality, and many other industries.
Serviced Office With View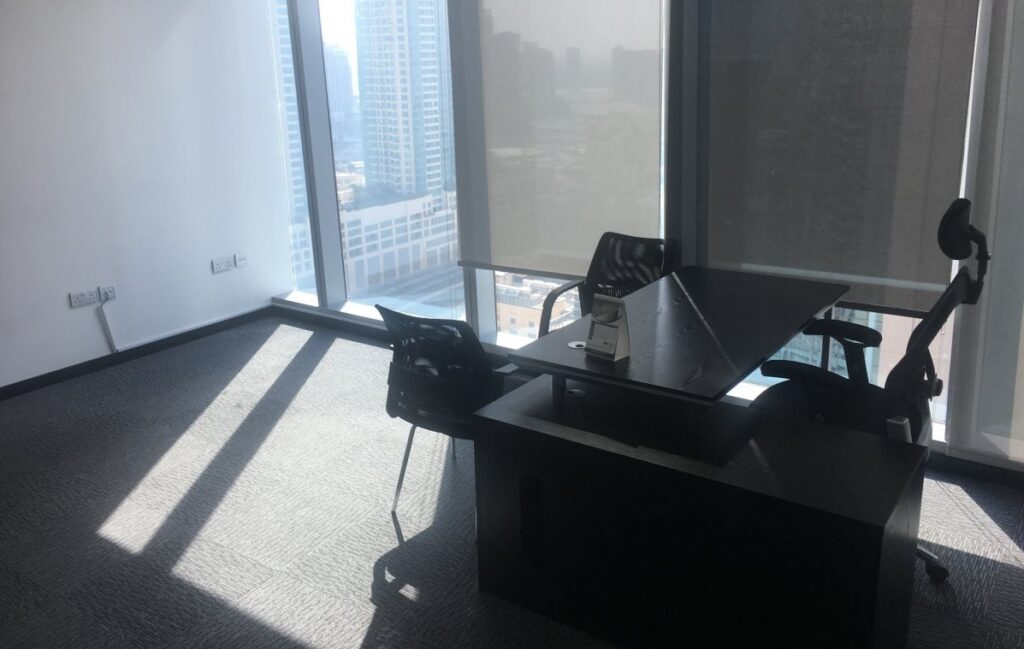 This serviced office in Sheikh Zayed Road is located in one of Dubai's most elite business centers. The serviced office has access to professional meeting rooms and modern shared areas that appeal to today's employees. Additionally, you can enjoy free receptionist services, high-speed internet, and a lovely view of Sheikh Zayed Road and downtown.
Dubai Silicon Oasis
Also known as Silicon Oasis, it's a business suburb promoting tech-based companies. And with developments like the SANDBOX program and the upcoming Deyaar luxury residential tower, Dubai Silicon Oasis fuels innovation in numerous industries.
Serviced Office With View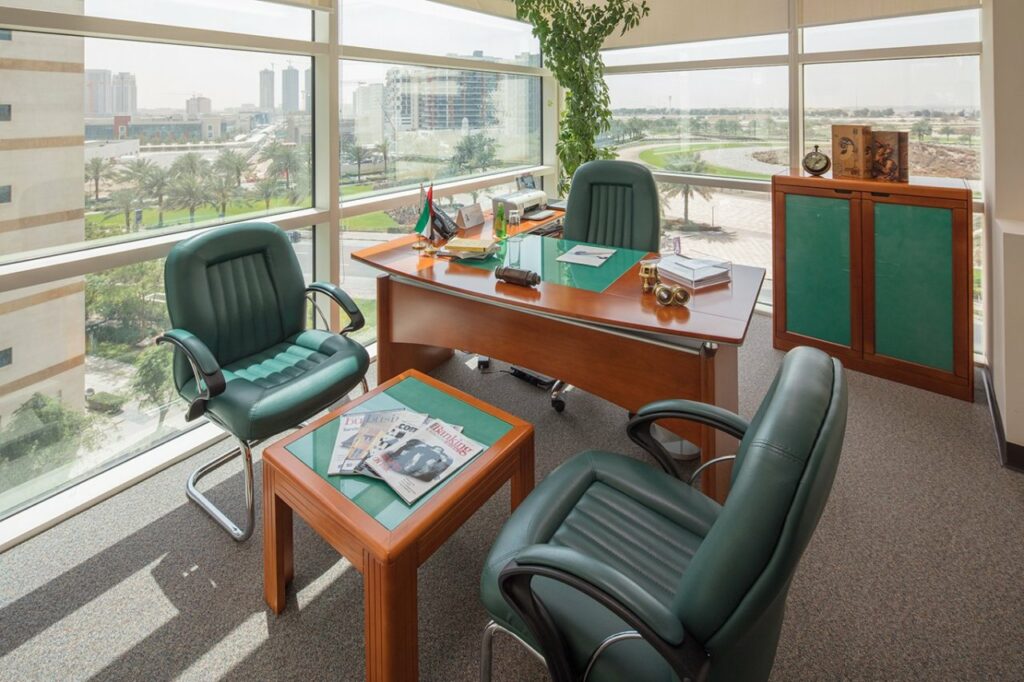 A fully serviced premium office with a spectacular view offers both short and long-term bookings. Additionally, you can get access to amenities like high-quality furniture, air conditioning, heating, electricity, etc. You can book a business lounge, executive meeting office, or workspace in Dubai Silicon Oasis through fluidmeet.
Al Barsha Dubai
Located in New Dubai, Al Barsha is a reliable serviced office provider south of the city. It is best known for its five-star hotels and shopping resort. It is the running business hub for multiple popular companies like Royal Park Real Estate and Wellfix General Trading LLC.
Office Space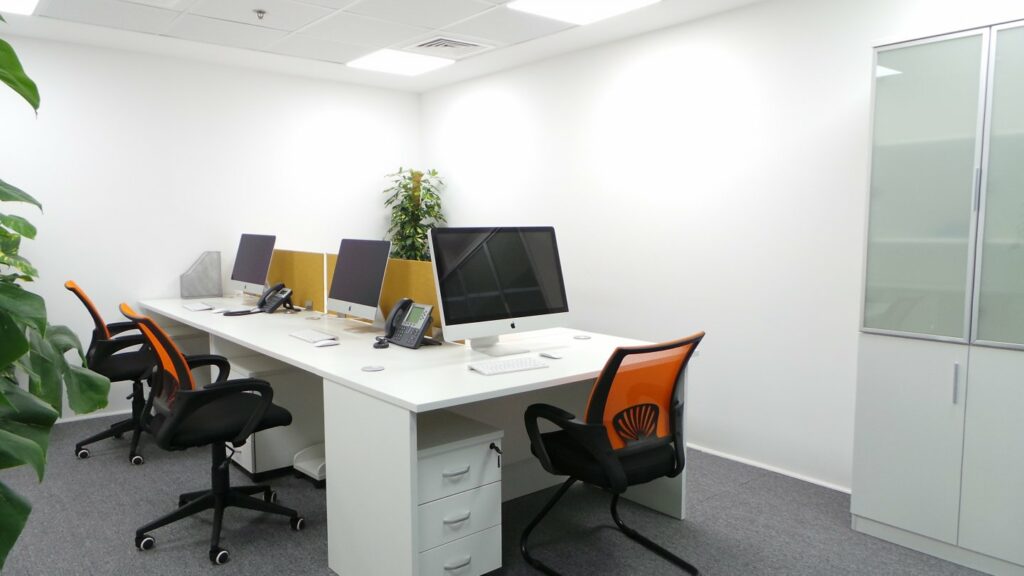 Spanning over 200 square feet, this serviced office in Al Barsha Dubai offers an incredible all-inclusive package. You can benefit from either short-term or long-term bookings. You can enjoy various basic utilities like electricity, water, and air conditioning, as well as reception services, videoconferencing, and meeting rooms.
DIFC
DIFC or Dubai International Financial Center is a well-renowned economic zone in Dubai. It is one of the leading financial districts in South Asia, Africa, and the Middle East. Surrounded by a bustling business ecosystem, companies here can benefit from nearby facilities to ensure future growth.
Serviced Office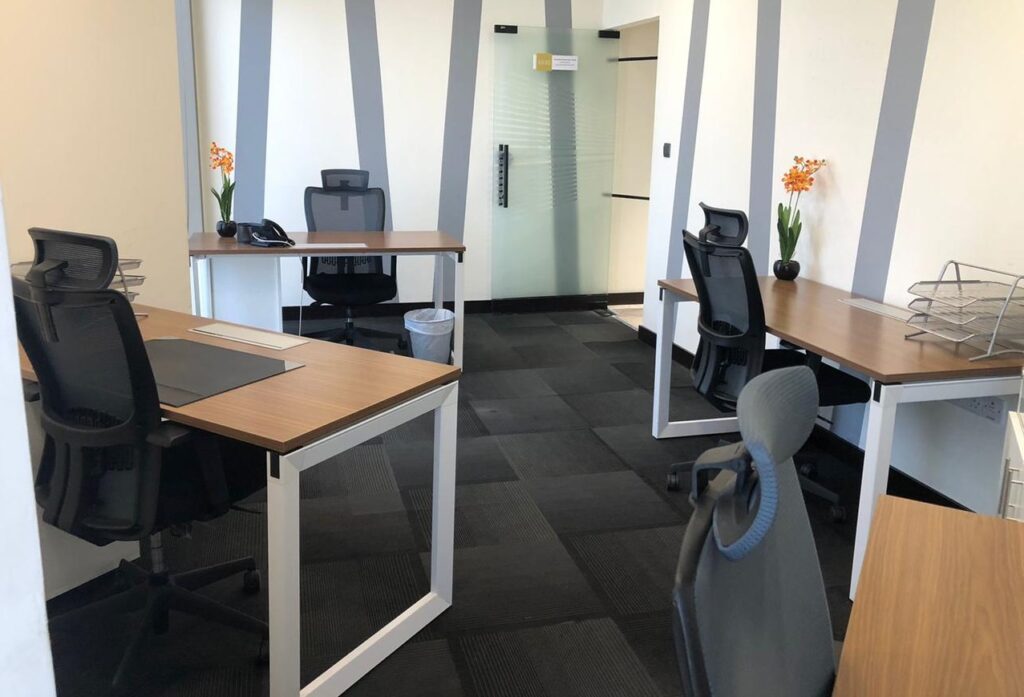 Serviced Office, located in the heart of DIFC is available for short and long-term bookings and is suitable for various types of businesses. You can enjoy impressive corporate services that handle the mail, answer calls, and book meetings at the best rate. Business owners love the fully equipped meeting rooms and 24/7 office access offered by DIFC.
Deira Dubai
Deira Dubai is one of the top commercial districts in Dubai and is home to the country's oldest souks and other heritage sites. As one of the earliest urban centers of the city, it's a business hub in the truest sense. While Deira remains connected to its traditional roots, it's also where plenty of IT firms and conglomerates are setting up shop.
Serviced Office For Two Persons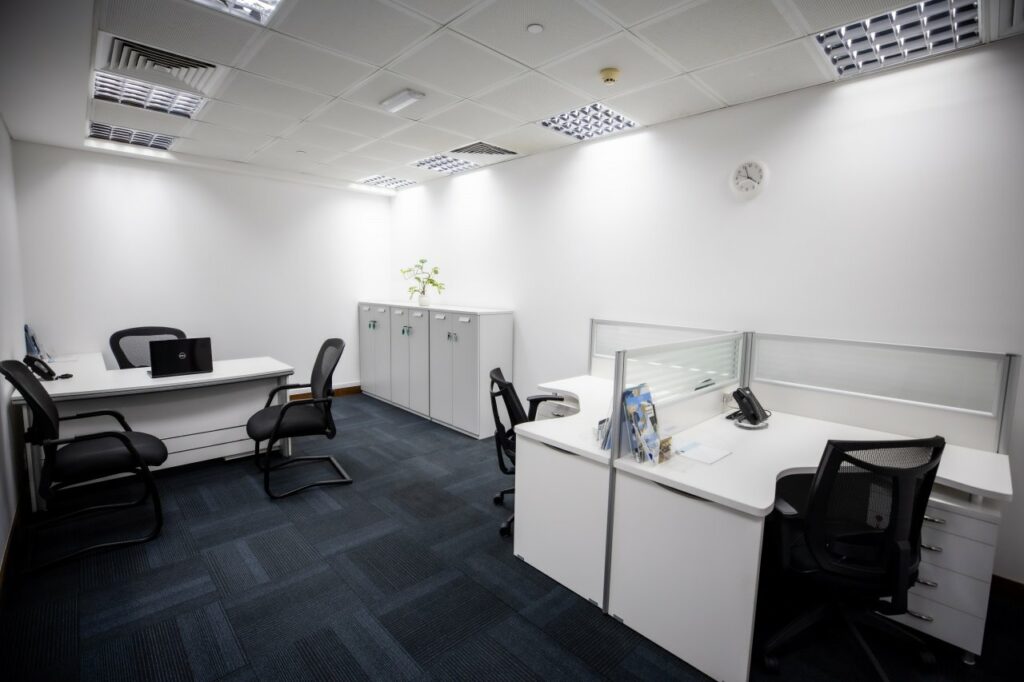 Stretching over 244 square feet, it is a fully-furnished office, available for immediate short and long-term bookings. You can enjoy incredible IT infrastructure, high-speed internet, and friendly reception services at a very affordable rental rate. Not to mention, you can also benefit from a fully-equipped kitchen. The serviced office can accommodate a maximum of two persons.
Conclusion
Business owners are always looking for cost-effective yet professional workplaces that meet the needs of today's business landscape. All of the top 10 serviced offices in Dubai business centers mentioned above offer numerous amenities that cater to various businesses. If you're looking for affordable serviced offices in Dubai, Fluidmeet can help you with bookings.