Why are Annual Company Meetings and Corporate Events so Important?
The year is ending, and many companies are wrapping up for the year. Many companies are hosting corporate events here and there, and many business meeting venues have been booked and reserved. But why do they hold these corporate events? How do these annual company meetings help their growth and development in any way? This article will enlighten you more on company meetings and corporate events and why they are essential if you plan to host one in venues like conference centers, banquet halls, or even ballrooms.
What Are Annual Company Meetings?
The annual company meetings aim to assess the previous year, reflect on it, realign the company with its values and mission and create strategic goals for the coming year. Top management, the executive board, and other company stakeholders attend annual company meetings and corporate events. However, this may differ based on the organizational structure and procedures.
Communication is king when running a successful, profitable, and healthy business. Teams with good communication and connection are more productive than their counterparts with poor communication and connection. Annual company meetings or corporate events helps your team to develop harmony via communication and successfully kick off the new year. By doing this, you're positioning your company for success on both an internal and external level.
According to an Economic Impact Assessment report from the Dubai World Trade Center, 2.6 million delegates who attended important corporate events in Dubai in 2017, including 42% of visitors from outside the country, spent nine times more per event than local attendees, mostly on booking conference halls, lodging, shopping, entertainment, and food and beverage.
Importance of Annual Corporate Events or Meetings
An annual event is crucial for your company for several reasons, which include:
1. Inspiring Employees
A yearly event is ideal for fostering community and bringing people together. Even if the event is primarily targeted toward an external audience, it is still the perfect moment to incorporate Staff members and have them collaborate to make the event a huge success. Employees may see how far the organization has come in a year by attending an annual event. It is also the ideal time to announce new goals and plans that will be carried out throughout the course of the coming year.
Everyone attends the event; thus, the influence is rather significant. Employees can also hear directly from the company's senior executives simultaneously. Their sense of responsibility and belonging increases, significantly increasing motivation.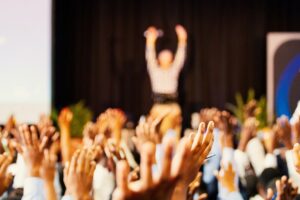 Employee engagement has a significant role in organizational culture. There is a significant distinction between engaged and disengaged workers. Unengaged workers need to put more effort into their occupations because they need more inspiration. You may organize an annual corporate event to make employees feel appreciated and know their importance to the organization's success. This makes them eager to arrive at work and give it their all.
2. Helps Team Building
Corporate events are excellent for fostering team unity. Team building exercises can help employees overcome obstacles at work. Cohesive teams are more creative and productive. Additionally, having a good team or friend motivates people to arrive at work and give a project their all. Business event venues like conference halls may be instrumental in bringing employees and their executives together for corporate events.
3. Bridge The Gaps Between Leadership and Employees
Between management and workers, there is frequently a chasm. You can close this gap by giving everyone a space outside work to get to know one another. Employees are more likely to view their managers as colleagues during team-building exercises than as superiors. These connections may have a magical effect at work.
Company gatherings allow employees to interact with their employers in a less formal and high-stress setting. Some workers eagerly anticipate workplace functions since it's the only opportunity to speak with their supervisor in a more relaxed environment.
4. Stress Reduction
Furthermore, we must acknowledge that an annual company event is often planned to be quite laid back and fun. You may hire a performance band to keep everyone entertained, provide food and drinks, and create a relaxing environment. For instance, you can book business event venues close to a Golf Course if there are any. After spending time at the Golf Course, you can enjoy the rest of the day in venues like ballrooms or a banquet. 
Regardless of the business you work in, working may be pretty stressful. Having to compete in a crowded market makes the stress level even higher. A yearly company gathering serves as a reminder that it's acceptable to unwind and enjoy yourself.
The yearly corporate events are ideal for reassuring staff members and maintaining their happiness. To promote attention and employee satisfaction, presentations from HR managers or other important management figures may also be held in corporate event venues like conference halls.
5. Networking
Company gatherings may be just as crucial for networking as personal connections. For genuine relationships, employees might meet coworkers or clients. The best networking occurs in a more informal setting where you already have a relationship. Employees may use business gatherings to meet people who can help their careers in the long term.
6. Brand Exposure
A yearly event is excellent for disseminating company information to the rest of the market. The media will be interested in a yearly event that features a worldwide show band and several significant announcements.
Hosting one is a simple option, thanks to the additional publicity the yearly event generates. When you consider how media attention and the excitement surrounding your yearly event may help your business in various ways, you will undoubtedly see a solid return on your investment.
Furthermore, a conference is the ideal setting for major announcements. The fact that you organize the event every year inspires the entire company to work more, develop greater products, and make better announcements. There are conference halls in Dubai that are best suited for these corporate events. New investors might come for you if you appear on top business news media pages.
Conclusion
Hosting an annual event is simpler than you would imagine. The remainder of the event's planning will be simple as the objectives are crystal clear. For example, you can concentrate your efforts on obtaining media attention if your objective is to introduce a new product. If the event is internal for your staff, you may design it to meet their wants and expectations better. Corporate event venues like conference halls, banquet halls, and ballrooms are available in Dubai, so you may want to consider various options before making your choice.