The Shift in Workplace Environments – Hybrid Work Model On The Rise
Our workplace environments are changing, there is no denying it, but the real question is, what does this mean, and how does it impact us?
Businesspeople all around the world have changed how and where we work since the emergence of work-from-home opportunities and responsibilities. Our workplaces have changed to accommodate the hybrid work model and so to meet the shifting expectations in our society, from moving into serviced offices to establishing businesses in virtual offices, coworking spaces, and hybrid spaces.
What major shifts have we really seen?
It's no secret that coworking spaces and serviced offices have been around a while, but recently, they've been more in demand than ever. With a 21.3 percent estimated annual growth rate in the flexible workspaces industry, the hybrid work model is becoming the norm in today's business world and entrepreneurship environment. Most people were confined to their home offices to conduct business because of the onset of the COVID-19 pandemic, but people want out.
While some people did enjoy the remote opportunities, and understandably prefer this, others were completely overwhelmed with the idea of not having an adequate work-life balance. The risk of overworking yourself at home is real, and people are struggling with it.
According to a survey by staffing firm Robert Half, over 60 percent of professionals who switched to working from home due to the pandemic said they now work on weekends, in addition to 45 percent who said they frequently work additional hours during the week. To counteract this, businesses are taking to new workplace environments by setting up employees in coworking spaces, serviced offices, and hybrid spaces.
But what exactly are these new arrangements?
There are several that businesses and business professionals use all around the world, but here are the most common and in-demand spaces: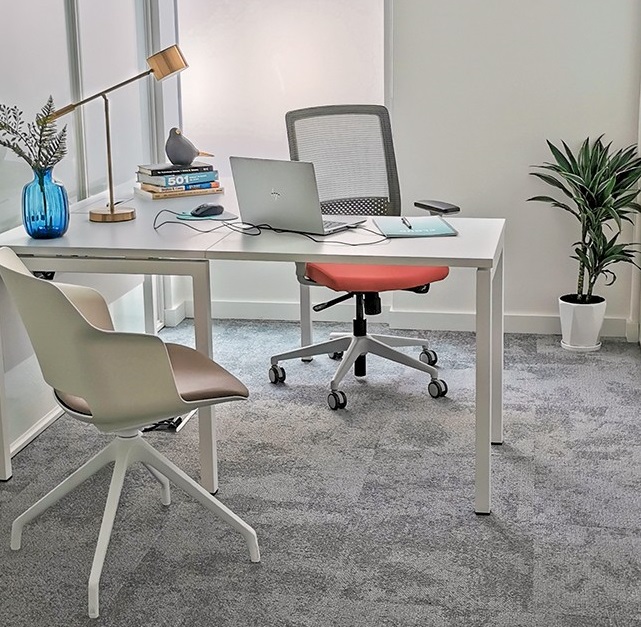 Serviced Offices
Serviced offices are fully furnished offices that include all the amenities needed to run a successful business such as the obvious, internet, and electricity, as well as fully staffed reception desks, networking spaces, access to meeting rooms, kitchens, maintenance, and cleaning services. Businesses setting up their employees in serviced offices gives them access to an up-and-running facility that ensures the business can operate smoothly and efficiently and provides a professional edge over competitors.
Co-working Spaces
Coworking spaces are a newer and more popular office work arrangement in terms of flexibility. These types of workspaces are typically when employees from different firms share office spaces or an open workspace area, creating cost savings and convenience through the use of common facilities such as utilities and equipment and sometimes even refreshments. These shared offices can provide you with so many benefits that can enhance the quality of the work produced.
Hybrid Spaces
Hybrid workspaces combine in-person and remote work to give employees flexibility and support. In this workspace environment, employees typically have more autonomy and a better work-life balance, and, as a result, are more engaged. Employers also benefit from this arrangement by building a more productive and healthier workforce.
In terms of the hybrid work model, Fluidmeet was a pioneer. The company developed a name for its consistently dependable services by providing world-class workspaces. Connecting entrepreneurs with coworking spaces and serviced offices across Abu Dhabi, Dubai, Manama, and various other cities around the world led to fluidmeet becoming the go-to business for professionals looking for these services.
Who does the hybrid work model really impact and how?
Everyone. These changes impact everyone who works in an office setting, and that's a good thing. The shifts we are seeing in our workplace environments help enhance our productivity by allowing us and our businesses to work more efficiently.
Enabling employees to improve their work-life balance enables them to expand their overall contribution to their company. It really is a win-win scenario in which both the business and employees reap the benefits; the business has an improved output and productivity as a result of employees gaining more flexibility in order to give their work their all.
How did we move to use flexible work arrangements?
A big contributor to the world moving away from the traditional workspace is the dawn of the COVID-19 pandemic. According to a pandemicEX survey, 41 percent of workers were afraid to go to work in March 2020 for fear of getting COVID. With governments around the world implementing lockdowns and many more restrictions, businesses had to come up with a solution to get productivity levels back up.
But COVID-19 doesn't get all the credit. Even without the pandemic, implementing flexible work arrangements would improve recruitment and retention attempts, enhance organizational diversity efforts, promote ethical behavior, and support the company's efforts to be socially responsible. There are so many benefits that these arrangements can give not only to employers and employees, but to businesses themselves.
How does this affect businesses and businesspeople?
The shift to flexible working environments affects businesses and businesspeople in many ways. Businesses can severely cut down on costs by using coworking spaces and serviced offices, and with a hybrid workspace, can reduce the number of desks they need.
In addition to being cost-effective, the change also benefits the company by increasing employee engagement and turnout. Thus, attracting higher caliber candidates, and fostering a culture of innovation and creativity among the team.
So… What does this mean?
These changes aren't necessarily a terrible thing. It shows us that we are working towards a more productive professional world where our work environment gives us the flexibility to produce quality work more efficiently. These flexible work arrangements are the workspaces of tomorrow, and we should be ready for the complete transformation of the professional world's workplace.