7 Factors To Consider When Choosing Your Event Venue
Possibly the most important decision to make when planning for an event in Dubai would be the one of deciding which event venue to host it. And with Dubai ranking as one of the cities in the world with the highest hotel occupancy rates and over 108,239 hotels available, getting the right venue can make or break your next event.
Right from corporate events to a wedding reception, there are lots of criteria when choosing your next event venue to make sure everything goes smoothly. In this article, we shall explore some of the most important factors to consider.
1- Type of Event and Client Goals
For anyone organizing an event, it is of utmost importance to first establish the purpose and goals of your event. That way, you can match up any event venue with those specifications. The purpose of an event is what kick-starts planning and sets the right direction for everything else.
This early in the planning, you could ask yourself questions like, what is the style of the event? Is it a corporate event or networking function for employees? an educational session of like-minded professionals, or a large annual convention? Or is it a social gathering like a wedding, birthday, anniversary celebration, or even a religious event?
Knowing what kind of event, you are going to host, and its purpose puts every other consideration that follows from here on into perspective. For instance, a corporate product launch will necessitate a different kind of event space and décor, from that of a birthday event. Both of which will require their own special kind of planning and execution.
2- Budget and Cost
Naturally, budgeting is a crucial component in event planning, and as a cost-conscious organizer, you may want to keep the venue cost down, as you will have other items to pay for, such as food, entertainment, and supplies. We, therefore, recommend setting up a realistic budget of what you can afford before looking at any venue options. With a set price point for a venue cost, you will have automatically narrowed down your search selection to different sites, depending on location, that will fit within your event budget.
Additionally, being flexible on the date can be a great negotiating tool, as different times of the week, month, and even year tend to cost less than peak periods. That said, it is best to plan ahead as far as possible, to get a favorable reservation rate for your chosen event space.
3- Location
Choosing an ideal location could mean different things to various events. However, as an organizer, the convenience of the guests should be highly considered as a factor of choice since you would like your attendees to arrive at the venue on time and without any unnecessary complications.
For instance, should most of your expected attendees be from or reside in Jebel Ali, then it would be more suitable for everyone if you were to choose a venue location that is close to or within Dubai. On the other hand, if most of your attendees are set to come from other parts of UAE or other countries entirely, then it would be best to consider venue options that are close to the Dubai International airport or station, or their hotels.
In cases where attendees are being accommodated in a single location, the most ideal hosting solution would be to choose a hotel, which would alleviate the requirement for valet parking and the odds that attendees will be late due to getting lost.
4- Capacity & Layout Of Event Space
The next important factor to consider is how many people the venue can accommodate. Technically, it should have enough space for all the equipment you will be using, and still fit all expected attendees (guests, speakers, performers, support personnel, volunteers) and anyone else who will have a part in your event. An ideal event venue should be large enough to accommodate everyone, but not so big that it fails to create the atmosphere and ambiance you hope to achieve. Approximating your guest list can help in quickly eliminating many venues based on their capacity.
Just as well, the layout and floor plan of an event venue can greatly affect the flow of human traffic, as well as influence the flow of activities, throughout your event. Hence while narrowing down your selection, we strongly advise looking over an illustrated floor plan of each venue option. And where possible do a walk-through of your favorites at least once to get a feel of each place.
5- Weather Conditions
In Dubai, most people host their outdoor events during the cool winters as summers can present extremely hot conditions. That said, winter is considered the peak season for most public events, and as such the rates for the most popular event venues are high during this season. It, therefore, comes as no surprise that you should expect a lot of the outdoor event venues to have been booked well in advance.
For indoor events that must occur during off-seasons. We encourage you to plan ahead to help ensure that the venue chosen can conveniently host large numbers of people in a closed space with the appropriate ventilation and air conditioning.
6- Food & Beverages
No matter what form of event you are hosting, the quality and service of the food & beverage will leave an undying impression in the minds of all your guests. Therefore, you need to determine if the venue has a kitchen and if can it provide catering to your event. If it does, you will need to find out what the food & beverages provided for a minimum number of guests, also known as F&B minimums, are and get this information in writing. If you estimate much more F&B spending than what the venue requires as a minimum, then it is more than likely that you will be in a position to negotiate with them to provide complimentary services like an upgrade of Wi-Fi or A/V support.
Venues without kitchen facilities, typically, have a standing partnership with an exclusive food provider that you may be required to use. However, in other event venues, you may have to bring in your own vendors.
7- Amenities & Audio/Visual
Different events need different types of facilities. For instance, a corporate summit will require AV equipment. Some event venues have that built-in while others will require you to bring that in yourself. While, on the other hand, birthday party halls and wedding venues should have a dance floor. For either kind of event, you will need to be sure that the venue has any of these. You might need more specific amenities for a particular event. And you have to determine if you will have to pay the additional costs.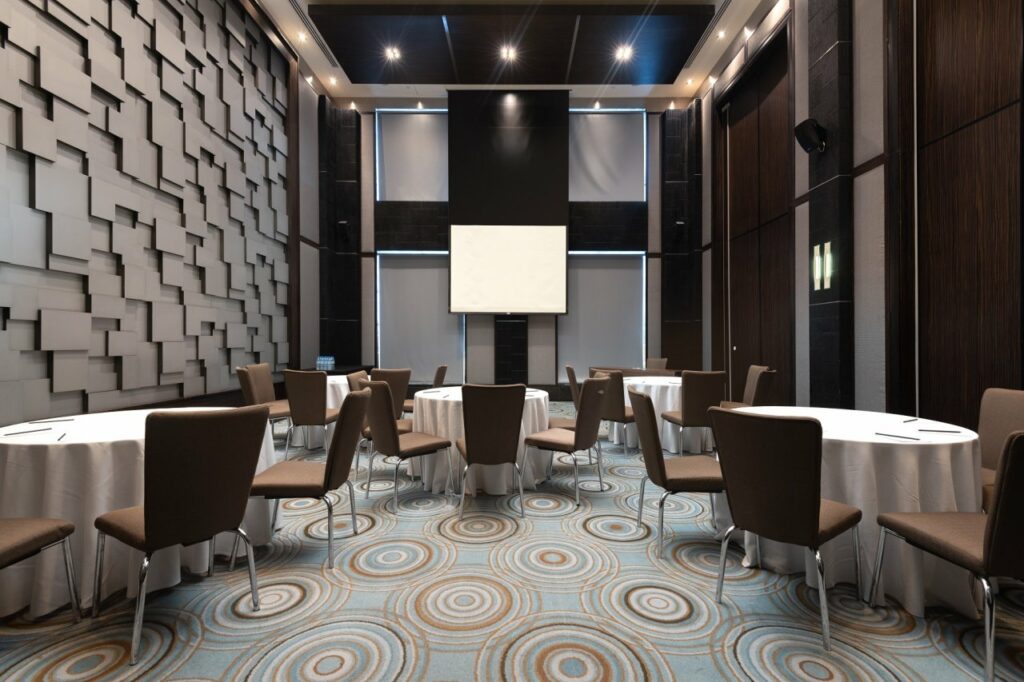 Learning more details about your guests can help you determine the right questions to ask. The venue management may forget to mention all the amenities and services they offer. If there are guests with disabilities, the venue must have separate comforts fitted specifically for them.
Conclusion
As you can see, there is a lot to consider when selecting the right venue for your event. However, if you take your time and do your due diligence, especially while taking the above into consideration when doing your research, you will find the perfect venue for your event.
Event venues in Dubai offer a diverse range of facilities, amenities, and services. Therefore, you should not hesitate to compare different venues to get the best possible deal. Nevertheless, make sure the place you choose is flexible and suitable for your event needs.
Do you have any questions or are you in need of our help to book a wedding venue, a banquet hall, a team building event, a small training-work space, a business lunch or dinner, or organize a space for your business lunch or dinner? fluidmeet will be glad to assist you.