Commuting in Dubai – Keep your office and home close
With all its amazing skylines and astounding infrastructure, Dubai can be pretty crazy when you're commuting back and forth from home to work. But the traffic at the wrong times can be a nightmare where you could spend the better half of your day stuck behind a slow-moving car, or better yet the start-stop traffic of the UAE. Fortunately, public transport is just too good! Everything is mapped out in such a systematic manner that anyone can actually sort it out, except for getting lost once or twice in the bus or metro, but hey that's how you learn right? The good thing is that the RTA came out with an app recently that can help you map out the journey to your destination and help you navigate in real time.
Whether you live in Dubai or Sharjah, everyone has experienced the rush hour which takes the meaning to the next level. It has broken some (world 😊) records! The fact that a person needs to start their journey from the wee hours of the morning is a testament to how grueling it can be. You don't want to forget how important the ride back can be, especially if everyone in the city leaves work from 5-6PM.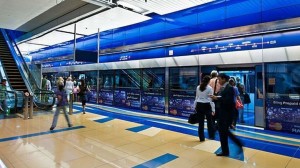 That's why where your office is situated is an important factor. When people are commuting from long distances or any distance for that matter, the last thing an employer or employee wants is to arrive to work frustrated or already tired. You want them to be at the peak of productivity. You would need to consider things such as how many of my employees commute by public transport? Or how many have their own car or planning to get a driving license? This will help you in making an important decision that if most of your employees commute by metro or by bus, it is ideal to have an office nearby a metro station which is usually a 5-10-minute walk to the office. Furthermore, if the office is closer to the metro station, an employee can always park and commute to nearby places in the metro which is easier and cheaper for them too. Unless there's a major technical glitch, which you hardly hear in Dubai for the metro or bus, these two modes of commuting are the most reliable and dependable for a lot of commuters. There would be no point in actually taking an office space with 5-7 parking slots when most of your employees commute by bus or metro.
At the end of the day, it is all about research, know your business well but know your people even better as they are the essence of your business to do well and have a successful one!
fluidmeet offers you a map and directory of all the best serviced offices and coworking spaces in the city. All you need to worry about is how many days or months you need it, so you can book it in advance for your business. We definitely have places where it is easier to commute to and from.
Book your serviced office/coworking space on fluidmeet