Business Centers and Startups – why they were made for each other
Unlike small businesses, startups are usually self-funded by members of the founding team. It has been estimated that 66% of startups secure funding through an investor or take out a loan to help fund their venture. Their aim is big, and they need all the support at their early stages of establishment.
A startup doesn't want to stay small and needs to survive at its inception stages. And creativity and innovation grow the business, and so is a stimulating workspace – in fact, this is crucial.  That's why business centers in Dubai and Abu Dhabi offer fantastic options for startups in order for them to focus on what really matters, their growth. Working from a business center in Abu Dhabi and Dubai can be the ideal equation for a startup, due to the following reasons:
1. Flexibility for Startups
Exactly why do startups love business centers so much? Startups need flexibility, and business centers do just that for them; when they need a desk but not an entire office for rent in Dubai, a business center is a perfect solution.  Some startups like to work part-time, and yet need to work in a professional working environment on demand with a 'pay-as-you-go' plan. A highly practical solution is where a startup can rent by the day, or by the month so that they don't pay for more than what is really necessary.
Taking a fully furnished office with bespoke solutions is another option for startups. This can be customized for startups who would prefer a dedicated space, with 24/7 access with one simple option that includes all amenities.
This arrangement for startups offers the convenience and flexibility of an office without the hassle of management or long-term commitments.
Plugging in and starting work from any available seat in a hot desk area is also an ideal option for people who are on the go and that like to work in a shared space.
2. Cost Saving of Serviced Offices
Renting an office can be costly and time-consuming. Rent, furnishings, utilities, and maintenance soon add up. Given these expenses and the cost of time to put it all together, startups turn to cost-effective and convenient solutions by renting a serviced office. Entrepreneurs can rent office space in the business centers in Dubai and Abu Dhabi that is ready to occupy immediately and that comes with an extensive range of fully-fledged services.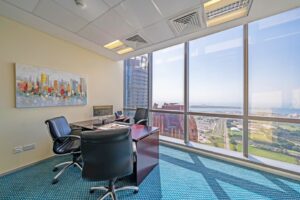 A serviced office provides startups everything that they need to get their business up and running right away, avoiding high investment costs, and allowing them to flawlessly launch their business in impressive surroundings. Everything is professional and fully furnished in a typical business center in Dubai and Abu Dhabi.
Startups can 'Pay Per Desk' – When you rent a leased office, you have to pay for the space as well as all the facilities that are required to run an office space. In contrast, in a serviced office, the space provider offers desks along with basic facilities that don't put any extra load on your fixed monthly expenditure. Fitting an office out can also prove to be an expense that startups can do without. So there is a lot of time and effort, in addition to cost, saved in the process. A serviced office, however, will come with a fixed business rate and utility bills. In addition, often a business center already has staff that you can benefit from if there are any ad-hoc tasks you need assistance with, such as WIFI access, reception, mail management, assistance with business setups, meeting rooms, and more!
Here's a list of the top 10 serviced offices in Dubai business centers in different business hubs across the city.
3. Ease of Setting up Licenses (Sustainability, Tawtheeq, and Ejari)
Sustainability Workspace is a kind of productivity growth, which is important in making Dubai a competitive investment destination.
Renting out a sustainability desk starts as low as AED 1, 500 per month. The sustainability desk is generally with added amenities, such as a common receptionist, a meeting room, WIFI, electricity, and furniture.  Dubai Economic Department (DED) has launched a new campaign called "Sustainability Desk" also known as Smart Desk. As per the new DED rules, most of the activities (commercial & professional) can now rent affordable workspace known with the concept of sustainability desk, with a minimum office space of 50 sq. ft. These options are helpful for startup companies in Dubai that are looking to issue such licenses or renew their licenses at affordable prices within Dubai. Smart desks are a very reasonable option for startups, helping them create an inexpensive, quick and suitable co-working workplace for mainland License.
DED also provides startups different types of licenses, such as general trading and consultancy. Business centers in Dubai and Abu Dhabi can get this business setup and licenses done in an easy process, alleviating entrepreneurs from this. Depending on the type of business, if you need a minimum of 200 sq ft, the business center will provide you an Ejari contract or a general trading license (LLC / LLE). When you only need a shared office, an Estidama license will be provided by the business center if you don't actually require a physical space to run your business.
As for Abu Dhabi setups, whenever a new rental agreement is signed in Abu Dhabi, it needs to be registered with Tawtheeq, following all the necessary procedures. The Tawtheeq registration process is usually done by the business centers. You don't have to worry about it.
4. Business Growth
A business center goes hand in hand with startups because what is also provided in business centers are communities that have been curated to allow businesses to grow. Business centers also support entrepreneurs in both infrastructure and expertise, offering the startup community a suite of in-house services covering all business essentials, from legal work and accounting to PRO and HR. With this type of support, entrepreneurs can focus on what matters, getting their ideas executed.
5. Great Facilities
Some business centers even offer a private desk, which is perfect for those who need their own dedicated space; private desks give you a permanent home. What's in it for entrepreneurs? All facilities are catered for and all they need to do is plug in, and they're good to go. Of course, all the facilities of the business center are at their fingertips, and entrepreneurs will be an integral and permanent part of the ecosystem.
There are also added benefits to startups, where they can access meeting rooms, conference rooms, or lounges for client meetings or video calls, of course without the need to mention WIFI and catering amenities.
6. Co-working Option
Co-working is also a great attraction for startups, where they make the most of a unique infrastructure and share their office space with other users on a flexible basis, which can be adapted to their needs. Creative industries, freelancers, small start-ups, and companies that are tied to project work or employ various contractors will profit from unique infrastructure that can be shared.
Do you want to rent space that is convenient for your start-up business? Contact us at Fluidmeet, and we can assist you. It's your time, your choice. We will make and guarantee availability for you.
Blog Prepared by Fluidmeet Staff Writer
info@fluidmeet.com
About Fluidmeet:
Established in 2015, Fluidmeet is a leading online marketplace and an emerging booking and venue management platform that "connects" individuals and corporates seeking rental of serviced offices, co-working spaces, meeting rooms, and banquet halls with venues and their hosts in a timely, cost-effective and efficient manner.