Work from Office vs. Work from Home – What Suits You Best?
With the rise in popularity of hybrid working models, more and more businesses are making the switch. In the UAE, 90% of full-time employees find that a completely remote or hybrid working environment works well for them as opposed to working from office spaces in Dubai. Continue reading to learn about the difference between working from home and the office, along with the benefits and drawbacks of the two work settings and different workspaces.
As time progresses, advancements in workplace technologies and methods are transforming work environments and strategies. Lately, professional niches are adapting to various changes. As a result, we're seeing increased diversity in the different work environments for professionals.
That said; certain jobs and industries are more suited to professionals. For instance, major real estate firms in Dubai prefer working from serviced offices for more streamlined operations. On the flip side, tech startups are adopting remote working styles for a convenient approach. As such, picking the right working environment according to your work responsibilities can help improve your performance and work satisfaction.
Therefore, let us compare the differences between working from serviced offices in Dubai, London, or any other city across the globe, and working from the comfort of home.
Working from the Office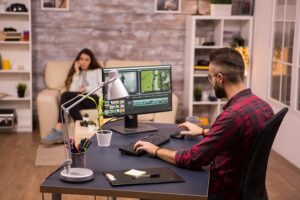 Various corporate positions require professionals to work on-site or in coworking spaces. Usually, such firms have highly dynamic operations where constant interaction is crucial. Employees usually need special equipment, certain permissions, and access to sensitive information. Here are the pros and cons of working from the office.
Advantages of Working from the Office
Easy Communication
Indeed, the latest technologies have made communication between managers and employees much easier. There are plenty of software and online tools to help employers work with their remote teams.
However, many companies do not have the appropriate infrastructure to maintain the same quality. Therefore, one-on-one conversations can solve many unnecessary problems.
Better Interaction
Professionals feel like they are part of a bigger picture when they collaborate with others in a single space. This motivation is crucial for employees to produce impressive work results. Coworking spaces and serviced offices, such as those in business centers, help expand the professional and social network to improve performance and increase production. It's why many new businesses and startups prefer serviced office rental in Dubai, due to the flexibility of rental terms offered by business centers and hubs
Disadvantages of Working from the Office
Long Commute
No one loves traveling from home to the office every morning, right? It is common for most professionals to dread the commute to and from their workplace. After all, it's costly and often takes up a considerable chunk of the day.
Sure, you can read a book or listen to a podcast on your way, but that's time they could spend doing important work. The commute greatly contributes to the cost differences between working from home and working from the office.
The commute is especially a problem for professionals in Abu Dhabi, as the city does not have a metro line. That's where companies should opt to set up serviced offices in Abu Dhabi that are near urban centers so it's easy to get to work.
Regular Distractions
While a coworking space improves interaction and communication, it affects your concentration. Working in a space full of people can contribute to a crowded and noisy environment.
Essentially, communication becomes more fluid, which can lead to distractions and noise in the workspace. It can possibly interfere with your concentration, influencing your attention span and productivity.
Working from Home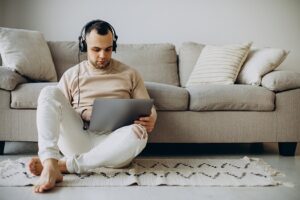 Work-from-home jobs and remote positions allow employees to complete tasks from home or another location. Simply put, such a job does not require you to make the commute to get work done.
Usually, remote workers only need a device with an internet connection, such as a PC, laptop, or smartphone. Working from home allows more flexibility and freedom than in-office jobs.
Here are the pros and cons of working from home.
Advantages of Working from Home
Increased Employee Retention
Compared to operating from corporate offices or even serviced offices, remote working enables and promotes more flexibility and agility in work settings. For instance, the staff is not tied to an office and the strict regulations that may come along with it.
As such, the flexibility of working from home increases employee retention. Employees can work flexible hours, such as early in the day or later at night. Not to mention, it helps work with customers residing in a region with a different time zone.
More Productivity
With the growing popularity of Dubai as a business hub, more and more brands are opening up locations in the city. Consequently, office spaces in Dubai are getting more crowded, which can lead to distractions and disturbances. By contrast, working from home calls for fewer interruptions. As such, remote working provides a quieter environment with fewer distractions. Such a work atmosphere facilitates focused work, which ultimately powers productivity.
Disadvantages of Working from Home
Risk Regarding Information Security
Information security is critical to all companies. Businesses can get into big trouble when security is breached, leading to significant, often irreversible losses. And it's not just small businesses and startups that can face cybersecurity risks. In fact, major businesses like Careem have also suffered from a data breach that affected millions of users.
It presents information security risks when employees take work laptops to their homes and access servers remotely. Therefore, it is essential for companies to ensure robust protective measures to keep the company's data secure. Developing strong encryption software can help reduce the risk to a great extent.
Performance Monitoring Difficulties
Managers and supervisors often struggle with managing and monitoring remote employees. It may also be difficult to deal with Individuals with different personalities. In simpler terms, employee response varies greatly in a remote-working atmosphere.
Ideally, business owners should set targets and goals and keep a close eye on remote employees' target-reaching abilities. This strategy makes it easy to find a remedy for performance-related problems in a timely manner.
Bottom Line
It would help to weigh the pros and cons of both working environments before making a final decision. Working from the office or working from home has its advantages and disadvantages. Therefore, you must compare the pros and cons of each work environment with your lifestyle and specific needs to pick one work atmosphere. Not to mention, it also depends on your specific job position and work responsibilities. While many people prefer the liability of working from home, it may not suit their job.