Top SEVEN Places to Hold Your Small Training
Deciding upon the best event space or venue is critical to your training event's overall success. While venue planning takes time, it doesn't have to feel overwhelming. For businesses, team building and training are part of success – and the last thing you want to worry about is where to hold your small training event. fluidmeet will aim to help you choose some nice locations around town:
With a capacity of 24 persons, in a 4* hotel, you can rent the Executive Meeting Room; Flip down Projector, space size is 550 sq. ft., and ideal for business meetings or conferences, training workshops, team building activities, corporate events, weddings, and other celebrations. There is also free valet parking.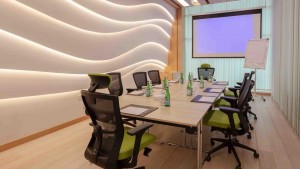 One of the finest meeting rooms in town complete with state-of-the-art audio-visual facilities and an outstanding menu. Al Morjan stands out because of its well-lit and immaculate space. This awesome space is waiting to be booked by the next winning team.
3. Al Rimal Meeting Room, Dubai Marina, starting at AED 70/person
3. Al Rimal Meeting Room, Dubai Marina, Starting at AED 70/Person
With a floor space of 350 sqft, Al Rimal meeting room has natural daylight and is perfect for a medium-sized meetings, training sessions, workshops, presentations, and similar corporate events. This meeting room is equipped with an HD projector screen and an in-built audio system. Complimentary Wi-FI, in-room coffee machine. Ideal for intimate meetings and small presentations, the Rimal meeting room is a quiet space for productive small gatherings and has a very friendly staff.
4. Meeting Room 1, Business Bay, Starting From AED 250/Hour
Situated inside a business center, Meeting Room 1 accommodates all the conferencing needs of companies that need a meeting space. With flexible function rooms, the rooms range in size according to the number of your delegates. Clients will have access to the best quality meeting room facilities that are necessary for your business and training needs.
5. The Meeting Room, Dubai Investments Park, Starting at AED 49/Hour
Conveniently located by Expo 2020, The Meeting Room fits approx. 20 people and is a great space to brainstorm ideas, collaborate, present, share and develop corporate strategies. This fully-equipped 400 square ft. meeting room is the perfect space for your team.
Located in JLT, this state-of-the-art meeting room can hold up to 12 people boardroom set up. The meeting room is fully equipped with audio-visual equipment, integrated screens, laptops, lighting, high-speed Wi-Fi, temperature control, sound, video, and microphone systems, and a fully trained team to assist you with all your meeting and business requirements.
Located in Deira, Port Saeed Meeting Room is a great space to brainstorm ideas, collaborate, present, share and develop corporate strategies. This fully-equipped meeting room, with a floor space of 701 sq. ft., is the perfect space for your team.
A Co-working Space
Often, if you're a member of a co-working space, they will allow members to use their common space for events for free or for a very, very small fee. This is perfect for you who already pay for office space and, bonus, can hold the workshop after work or on weekends (when many possible attendees who work full-time will be interested in attending).
How to Book:
Once you select the space, you click "Request a Quote"
1st you signup (so fluidmeet knows who to email the proposal & booking details to)
Then you submit your meeting requirements to us
Then a priced proposal is sent your way
Finally, you can connect with the venue to discuss the proposal or pay online to secure your booking
Note: the full process will take less than a few hours on a business day
All Questions can be addressed to events@fluidmeet.com
fluidmeet allows users to book everything from training rooms and meeting rooms to banquet halls to co-working spaces to serviced offices.
It's your time, your choice. We will make and guarantee availability for you.
Blog Prepared by fluidmeet Staff Writer
Author: Maha Ahmad (support@fluidmeet.com)
List your next banquet hall, serviced office, training room, business center, event space, hotel, restaurant co-working space, team building event, training room, co-working space, exhibition space or social gathering to make them memorable, or try out our fluidmeet app! Do you want to rent an office space, or book banquet halls, or corporate event spaces that are convenient for your business? Do you want to book a venue for your social event? Then contact us at fluidmeet, and we can assist you. Download the fluidmeet App now!